Neutralizer Chemical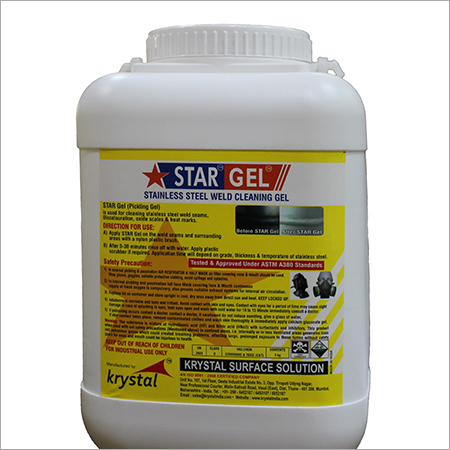 Neutralizer Chemical
Price And Quantity
Kilograms/Kilograms

1 Onwards INR
Product Description
Star Neutralizer is an innovative neutralizing aid for Star chemical products. As this product is environment friendly, the water solution of spent Star chemicals can be discarded in municipal sewage system.
Features :
Safe to use without any caution measures
Easy to apply
Reaction products produced can be safely discarded without causing pollution to the environment
Longer shelf life
Environment friendly as against the pickling & passivation procedure
Usage Instructions :
Apply Star Neutralizer on the surface already applied with Star Gel / Star Spray / Star Dip / Star Pass-1 at the time when water washing is required to be done..
Now apply Star Neutralizer with any brush on the Star product applied surface and kept it for 5-10 minutes.
Star Neutralizer used for application should be of same quantity as previously applied Star product on that area.
Then, wash the surface is with water. After removal of the water-insoluble materials (by decanting), the remaining liquid can be discharged into the municipal sewage system, without further treatment.
If the above application method is not suitable (on processing point of view), then collect the rinse water in a separate suitable tank. Add Star Neutralizer to that rinse water till its pH becomes 7 or more. Filter this treated solution to remove water insoluble materials or decanted and then the remaining liquid can be safely discharged into municipal sewage system, without further treatment.
The water insoluble precipitates generate in very small percent quantity and needs to be stored in a separate plastic bag. This bag must be safely stored as untreatable effluent product. It can be stored by making a cubical brick pit in the ground and the plastic bag needs to be placed in that brick pit.
Packing: 1 kg, 5 kg, 50 kg
Specifications:
| | |
| --- | --- |
| Manufacturer | Krystal Surface Solution |
| Packaging Size | 1 Kg,5 Kg,etc |
| Packaging Type | Plastic Jar,Bottles |
| Brand | Star Gel |
| Grade Standard | Technical Grade |
| Usage | Industrial |
| Shelf Life | 2 Years |