Rust Converter 177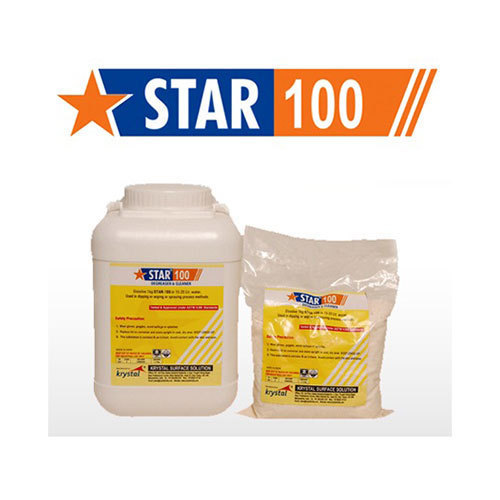 Rust Converter 177
Price And Quantity
Kilograms/Kilograms

100 Onwards INR
Product Specifications
Product Description
Rust Converter 177 is an innovative product based on the latest technology in rust converters. The distinctive formula of this product accounts for its dual functionality. Rust Converter 177 is a single pack ready-to-use solution which on applying converts the existing steel rust into a stable metal complex by forming a polymeric film over it. The Polymeric film acts as a protective and passivative coating preventing further corrosion which in turn acts as an ideal base for painting.
Rust Converter 177 (Rust Converter for Steel) reacts with all the layers and forms a stable non-reactive complex organo-metallic surface having bluish-black colour. In addition, this innovative product arrests the migration of ions, preventing electro-chemical corrosion process and prolongs the paint life for a reasonable period of time, resulting in considerable savings.
Advantages:
Converts existing rust into stable metal complex, forms protective coat and prevents further rusting
Eliminates complicated usage of sand blasting, wire brushing and mechanical grinding, saving time and labour
Converts the complete structure rust oxide into stable metal complex minimizing the labour cost
The final film formed on the original surface fails to hinder with the bond strength on the concrete to the steel bars in RCC structures or any other coating that is finally applied over it
Enhances 10 times life at a marginal extra cost when compared to the conventional products (non-film formers), offering better protection
Does not require intensive surface preparation except for proper cleaning of pitted iron surface
The product being a water based system, is environment friendly, non-flammable, non-toxic and neutral when compared to other solvent based systems
Dry film highly abrasion resistant and resistant to common household chemicals
Good UV resistant
Capable of withstanding general temperature shocks without becoming chalky or brittle
Provides an aesthetic and convenient to maintain rust-free surface when applied to the surface
Easy to apply using roller or brush

Application Guidelines :
In the corroded steel segment, remove off the loose and flaky rust by mechanical means i.e. use wool, chipping, wire brushing etc. depending upon the intensity of rust.
Ensure that the surface requiring treatment with Rust Converter 177 is free from paint coat, oil, grease, etc. Then, apply Rust Converter 177 properly with brush, spray, and roller or by dipping on the affected area with uniform strokes for achieving a uniform coat on the steel surface.
Use a non-metallic container for removing Rust Converter 177.
Let the first coat dry completely for 24 hours to ensure the complete reaction of Rust Converter 177 with rust. Then, the surface is ready to receive any kind of further coat.
Rust Converter 177 is brown in colour when applied. Complete protection is obtained within few minutes and as soon as the coated surface changes it colour to either jet black or brownish black, depending upon the kind of rust present on the coated surface.
Avoid applying coating if rain and extreme temperature conditions are expected within 6-8 hours of application.
Areas of Application:
Structural steel tankers (road & sea), overhead water tanks, heavy drilling rigs, chemical process equipment and storage tanks, pipe and tube stock, bridges, conveyors, automobile dickeys, cranes, concrete reinforcements, pipelines etc. and practically in all kinds of industries where problem of rusting of iron exists.

Coverage and Shelf Life:
Rust Converter 177 covers about 30sq.m / litre (depending upon the surface texture and porosity of the substance. It has unlimited shelf life when stored in a cool and dry place. Avoid direct sunlight and seal the container properly. Avoid mixing unused and used Rust Converter together; or else rust present in used Rust Converter 177 can induct chemical reaction in unused Rust Converter 177.

Packing: 5, 30, 50 kg plastic Carboys

Safety and Handling Precautions:
Avoid direct contact with skin, mouth, and eyes. If in contact with skin, mouth and eyes, rinse off with water and get immediate medical check-up. Use of eye shield and gloves is recommended while using Rust Converter 177 (Rust Converter for Steel).
Star 100 Rust Converter (Rust Converter for Steel) is usually applied to objects that are difficult to sand blast, such as vehicles, trailers, fences, iron railings, sheet metal, and the outside of storage tanks. This is solution or primer designed to be applied directly to a rusty surface to convert residual rust on steel surfaces to harmless and adherent chemical compounds. Star 100 Rust Converter may also be used to restore and preserve iron-based items of historical importance. Unlike the standard scrape, prime, and paint regime, the user does not have to bring the surface down to bare metal. These in turn are able to develop a protective film on the metal surface that protect against rust.

Specification :
| | |
| --- | --- |
| Manufacturer | Krystal Surface Solution |
| Packaging Size | 1 Kg, 5 Kg, etc |
| Usage/Application | Industrial Use |
| Packaging Type | Plastic Jar, Bottles |
| Brand | Star 177 |
| Shelf Life | 2 Years |