Weld Remover Pickling Paste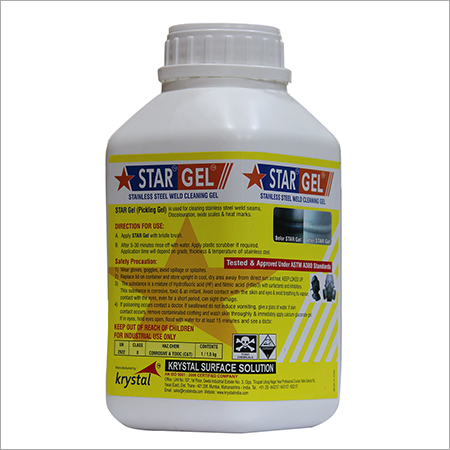 Weld Remover Pickling Paste
Price And Quantity
Kilograms/Kilograms

1 Onwards INR
Product Description
Krystal Surface Solution is a leading manufacturer of Stainless Steel Pickling Gel and Pickling Paste. Our products are available world wide under brand STAR GEL STAR GEL is the only product if you are looking for Weld Cleaner Pickling Gel, Weld Remover Pickling Paste, Stainless Steel Pickling Paste.
STAR Gel - Stainless Steel Pickling Solution ( Pickling Gel / Pickling Paste form ) which is used to clean weld seams and surrounding areas and is applied with brush. It is used to remove heavy scales, discolouration, annealing colours, rust particles near weld and welding affected area by heat without grinding or wire brushing or buffing. It helps in detecting pinholes after welding
STAR Gel is stain-free and does not impart yellow or black stains after washing with water. Moreover, it does not necessarily demand separate Passivation chemical process.
Area Coverage per kg: Approximately 90 to 100 running meters for weld seam Per kg of STAR Gel
Application Process:
1. Remove dirt and oil using STAR 100 degreaser. Add 50-75 gm/litres in water (1kg STAR 100 in 15-20 litres water), stir and dissolve. Apply liquid STAR 100 Degreaser onto the surface for 5-10 minutes. Then rinse the surface thoroughly with water.
(Step 1 & 5 can be avoided for STAR Gel on weld seam application)
2. Apply STAR Gel on the weld seams and surrounding areas with a nylon plastic brush.
3. Leave the STAR Gel on the weld seams areas for 20-45 minutes depending upon the thickness of oxide scale.
4. Use pressurised water Jet Spray or wipe the weld seam lightly with plastic scrubber & rinse the surface thoroughly with water.
5. Apply STAR Passivation (STAR Pass 1) on the surface area and leave it for about 15 minutes. This will prevent from further contamination and corrosion.
6. Rinse the surface area thoroughly with water and allow it to dry.
Specifications:
| | |
| --- | --- |
| Manufacturer | Krystal Surface Solution |
| Packaging Size | 1 Kg,5 Kg,etc |
| Packaging Type | Plastic Jar,Bottles |
| Brand | Star Gel |
| Grade Standard | Technical Grade |
| Usage/Application | Industrial |
| Shelf Life | 2 Years |